Singapore Airlines is celebrating the nation's Golden Jubilee by having two Airbus A380s in a special livery, featuring a large Singapore flag-themed design on the fuselage.
The first aircraft with the commemorative livery will take to the skies in early June and the second in July. The A380s will be in the livery until the end of 2015, with the aircraft serving Beijing, Hong Kong, London, Mumbai, New Delhi, Shanghai, Sydney and Zurich routes.
The A380 is the world's largest aircraft and the special livery features a 10m-tall and 47m-long Singapore flag-themed design on both sides of the fuselage. On the two inboard engines is the official SG50 logo. (See Annex on 'Interesting Facts').
"Singapore Airlines' success is closely tied to the success of Singapore. What better way to celebrate SG50 than by proudly flying the national flag around the world on the world's largest aircraft," said Singapore Airlines CEO, Mr Goh Choon Phong.
Aviation enthusiasts will be able to get their hands on a collectible aircraft model in the special livery. A 1:200 scale model and a limited-edition 1:100 scale model will be available from KrisShop from July.
The special livery is one of many initiatives by Singapore Airlines to celebrate Singapore's 50th birthday.
A special A380 Charity Flight is planned for 29 May, on which some 300 beneficiaries of Community Chest will experience a three-hour flight. Beneficiaries will include children with special needs, adults with disabilities, as well as disadvantaged elderly and families, many of whom have never had the opportunity to take a flight.
Singapore Airlines is also organising an art competition, in conjunction with an Open House of the Airline's training facilities on 25 July 2015. The theme of the competition is "Celebrating SG50 with SIA: Growing with the Nation". Secondary and tertiary students, up to age 30, can submit digital copies of artwork, accompanied by a description of not more than 100 words, via www.SIAopenhouse.com, up to 30 June 2015.
Children aged between 3 and 12 can also participate in an on-the-spot drawing and colouring competition during the SIA Open House. The Open House, details of which will be announced shortly, will provide a rare opportunity for the public to see the inner workings of Singapore Airlines, at the facility where rigorous training is provided to cabin crew and pilots.
For customers, Singapore Airlines has launched special promotions to encourage both overseas Singaporeans and visitors to travel to Singapore for the SG50 celebrations. From 20 May to 10 July, a 50% discount will be offered for online KrisFlyer redemptions to select destinations, for travel within the same period.
Additionally, Singapore Airlines and SilkAir will be giving away 50 flight tickets. From 18 May to 31 July 2015, customers who book Singapore Airlines or SilkAir flights and travel within the same period will stand a chance to win an Economy Class ticket to any Southeast Asian destination in our network. To participate in the draw, customers can visit SQMIsg50draw.com
On board, passengers can enjoy a specially curated selection of Singapore movies, TV programmes, and music on our award-winning inflight entertainment system, KrisWorld, throughout the year. Special menus are also being developed to feature Singapore's unique cuisine, while SG50-themed amenity kits will be launched for the Airline's new Premium Economy Class, which enters service on the nation's birthday, 9 August.
Activities to celebrate Singapore's 50th birthday began last year, and included the SIA Charity Run and Charity Gala Dinner, which raised some $2.5 million for Community Chest.
Interesting Facts:
Decal:
-A special decal was used for the large Singapore flag-themed design, divided into about 50 panels for each aircraft
-The printing of the decal took about five days, on a 24/7 basis
-12 rolls of decal materials were used, each roll being 1.2m by 50m
-The total is about 720m2, equivalent to nearly nine badminton courts
-The amount of decal material used can cover 56 double-decker buses
Aircraft preparation:
-To prepare the aircraft for the decal installation, the existing SIA livery had to be removed, by 12 staff working over a seven-day period
-The aircraft was then painted white, by 10 staff over one day. Painting must be completed as a start-to-finish job, without interruption
Decal application:
-The decal application took about eight days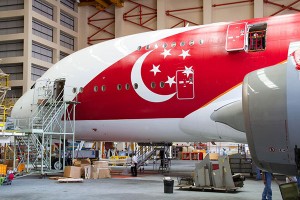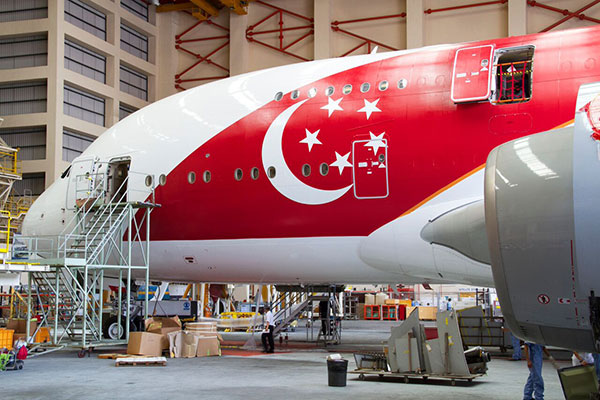 SOURCE Singapore Airlines