LOS ANGELES, Jan. 12, 2016 /PRNewswire/ — WOW air, the ultra-low-cost transatlantic airline from Iceland, has announced fares from Los Angeles and San Francisco to Iceland for as low as $99 for flights including taxes. Travelers also have the option to continue their trip to WOW air´s 21 European destinations including London, Paris, Berlin, Frankfurt, Dublin, Amsterdam, Copenhagen and Stockholm. Flights to the other European locations start as low as $199 one-way including taxes with a short one hour stopover in Iceland. Tickets on the select routes go on sale today, January 12, 2016.
Skúli Mogensen, founder and CEO of WOW air, said: "This is a game changer for WOW air, and arguably the travel industry, making travel to Iceland and other European countries both easy and affordable from California. We are thrilled to add Los Angeles and San Francisco to our fast growing network. With the addition of our new long-range A330-300 aircraft to our fleet, we will be able to offer fares from Europe to the West Coast of the United States far cheaper than our competitors whilst maintaining great service with a smile, as we did with our routes to Boston, Baltimore/Washington D.C., Toronto and Montreal. I look forward to welcoming Californians to Iceland and Europe with our super low fares to Europe."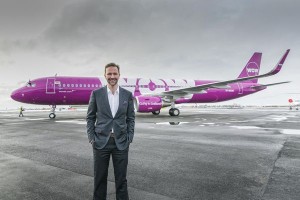 WOW air will begin flying to the West Coast of the United States in summer 2016 with inaugural flights starting in San Francisco on June 9th and in Los Angeles starting on June 15th. Service from San Francisco to Iceland will be available five days a week and service from Los Angeles to Iceland will be available four days a week with connecting flights on to other European destinations.
WOW air's expansion to California follows the successful launch of transatlantic services from 21 European destinations to Boston and Baltimore/Washington, D.C. in early 2015 and the announcement that the airline would begin flying to Montreal and Toronto in May 2016, all via Iceland and with fares as low as $99. The existing U.S. services now operate year-round and maintain consistent carrier loads of 90% plus.
Launched in November 2011, WOW air now connects twenty-seven destinations across the U.S. and Europe with the Icelandic capital. WOW air's annual passenger capacity will more than double in 2016 to over 1.8 million, up from approximately 840,000 in 2015.
The California routes will be serviced by three new Airbus A330-300 aircraft, the first wide-body planes in the WOW air fleet, which will each carry 340 passengers in a single-class configuration. Seat pitch will vary from 30 inches as standard to 34 inches at an additional charge.