Finnair has won a prestigious International Yacht & Aviation Award for the design of its new Airbus A350 XWB cabin interiors in Economy and Business Class. Finnair's A350 cabin, the creation of Helsinki-based dSign Vertti Kivi & Co, applies the design firm's Space Alive concept to dynamically change the colours, mood and atmosphere on board, easing customers on long-haul journeys into new time zones, destinations and seasons.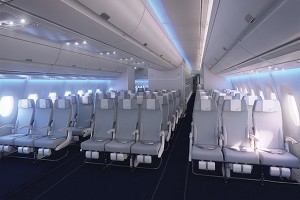 The bright and spacious cabin of the 297-seat A350 was recognised for excellence in design and passenger comfort in both cabin classes. Key factors in the selection of the A350 cabin interior were its fresh Nordic design, high quality materials and creative use of the aircraft's dynamic LED lighting system. The ambient lighting programmed onboard can gradually recall some 24 different skyscapes as the flight progresses, such as the rising or setting sun, various cloud formations, even the hypnotic dance of the aurora borealis, or northern lights.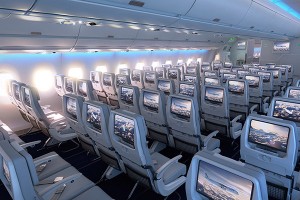 "Many of Finnair's long-haul passengers coming from Asia, Europe or North America may not be so familiar with Finland, but their time spent travelling with us is a great opportunity to showcase the best of our design culture and show how good design can make life better," says Juha Järvinen, Finnair's Chief Commercial Officer. "Vertti Kivi and his team have really stepped up to the brief, and we are proud of this early recognition of their efforts."
"With this design, as with my others for Finnair, I wanted to bring unique and fresh Nordic experiences to intercontinental travellers in a calming and peaceful environment that promotes wellbeing," says designer Vertti Kivi. "I am honoured to receive this prize and to contribute to what will be Finnair's flagship product for years to come."
Finnair has ordered 19 Airbus A350 XWB aircraft, the first four of which are scheduled to be delivered later this year. Finnair's daily services to Shanghai will be operated with A350 aircraft from 25 October.
dSign Vertti Kivi & Co are also the creators of the Finnair lounges at Helsinki Airport, which also make use of the Space Alive concept to create dynamic, living and peaceful spaces in continuity with the customer experience on board.
The International Yacht & Aviation Awards were given in Venice and are organised by design et al, a leading UK interior design magazine. Voting for the awards is open to industry professionals as well as readers, clients and customers.
SOURCE Finnair