LOS ANGELES /PRNewswire/ — The experience at Los Angeles International Airport's Terminal 5 today reflects the style of the city and its travelers as Delta Air Lines (NYSE: DAL) unveils the completion of a three-year terminal-wide refurbishment, including the airline's first private check-in lounge, Delta ONE at LAX. The $229-million Delta project was completed in partnership with Los Angeles World Airports (LAWA) and the City of Los Angeles.
"We're fast on our way to becoming the airline of choice in Los Angeles by understanding what moves L.A. – its most prominent industries, its most desired destinations, and its discerning customers' required amenities for travel," said Delta President Ed Bastian. "Our investments in T5 now offer Angelenos a more premium airport experience, from check-in to take-off."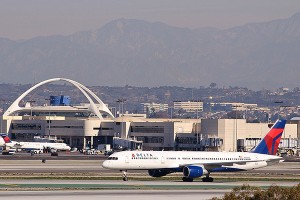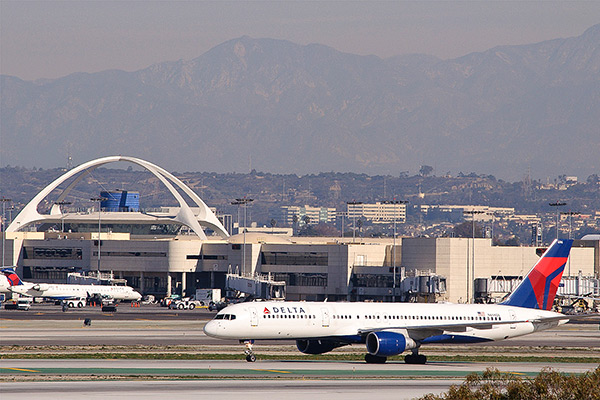 Since 2009, Delta has been the fastest-growing carrier at LAX* and today offers flights to the most important cities for L.A.'s entertainment, technology, health care, and automotive industries. The facility enhancements at Terminal 5 are part of the airline's investment at LAX as Delta continues to grow its network in this global gateway.
"These upgrades to Terminal 5 are transforming visitors' first and last impressions of Los Angeles," said Los Angeles Mayor Eric Garcetti. "This investment by Delta is the latest in our now more than $8 billion overhaul of LAX. Whether by upgrading nearly all of our terminals, bringing in ridesharing services to pick up passengers, or connecting the nation's second-busiest airport to rail, we're making LAX a world-class airport befitting a city that is the global capital of creativity, innovation and possibility. I am thrilled that Delta is growing its presence here in Los Angeles."
Delta ONE at LAX provides the most innovative premium check-in experience at LAX of any carrier and is consistent with Delta's other premium offerings on-board and at the airport. Customers flying in Delta One enter the terminal through a dedicated curbside entrance, leading to a private, modern check-in lounge with personalized luggage check, high-design atmosphere, and a refreshment bar. Customers also access a dedicated security checkpoint directly from the Delta ONE at LAX lounge.
Additionally, a renovated Sky Club offers more space and an improved customer experience, including 100 additional seats; new shower suites and renovated bathrooms; an updated food area with cafe seating; and new furnishings and fixtures. New restaurants and shops in Terminal 5 feature celebrity chefs and retail brand names that reflect the cuisine, culture and lifestyle of Los Angeles.
"Delta has made it a priority to build our presence in Los Angeles, and our improvements at LAX demonstrate the commitment of our award-winning employees to enhancing the travel experience not only in the air, but also on the ground," said Ranjan Goswami, Delta Vice President – Sales, West. "From new food and beverage concepts throughout the terminal to the premium offering at Delta ONE at LAX, we're creating a range of experiences to cater to our domestic and international travelers visiting LAX."
Other Terminal 5 enhancements include new jet bridges; a renovated Sky Priority lobby; an expanded ticketing lobby and four additional security screening checkpoints; and new baggage carousels and international baggage recheck facilities.
"As a proud supporter of expanding operations in a socially and environmentally responsible manner, I applaud Delta for continuing to grow through operational excellence and for providing the best services for travelers in Los Angeles and around the world," said Los Angeles City Councilmember Tom LaBonge, chair of the city's Trade, Commerce & Tourism Committee.
"Delta has made investment and growth in the Los Angeles area a huge priority," said Los Angeles City Councilmember Mike Bonin, who represents LAX and surrounding neighborhoods. "I greatly appreciate Delta's commitment to helping LAX modernize into a world-class airport this city can be proud of."
In coordination with these completed enhancements, Delta is launching a new integrated marketing campaign customized to Los Angeles — dubbed "LAX to LUX" — to show Los Angeles travelers how Delta's thoughtful investments, touches of luxury and attention to detail are setting a new standard for customers traveling in and out of LAX. The centerpiece of the campaign is LAXtoLUX.com, a digital hub where customers can learn more about Delta's premium offerings in LAX from curb to claim.
Delta's seat capacity in Los Angeles has increased more than 100 percent since 2009*, and the airline has significantly expanded its Los Angeles network over the last year, adding service to new destinations including Shanghai, China, which launches July 9, and increasing the number of flights to destinations it already serves, including New York-JFK, to which Delta will add a ninth daily nonstop flight from LAX in August.
"LAWA and our airline partners are committed to continuing our initiatives to transform and modernize LAX into a facility befitting the hundreds of thousands of people who fly in and out of our region each day," said LAWA Executive Director Gina Marie Lindsey. "We applaud Delta's partnership with LAWA, their investment in Terminal 5 at LAX, and their commitment to developing an experience that truly caters to the modern traveler."
* When including Delta Connection® fleet and compared to other carriers' aggregate mainline and regional fleets, including contract carriers.
SOURCE Delta Air Lines