Today, Air France opened its new and improved lounge at the heart of Bordeaux-Mérignac airport. Whether they are travelling to Metropolitan France or have a connection on an international flight from the hub at Paris-Charles de Gaulle, all eligible customers can now enjoy a real haven of peace at the heart of Bordeaux airport.
AN EXCLUSIVE WELCOME BREAK ON ARRIVAL AT THE AIRPORT
This new lounge has been designed to the Company's highest standards of comfort. The first lounge to be completely renovated with a new architectural concept, it is suitable for domestic flights and those to the Paris-Charles de Gaulle hub.
It features a relaxation area ensuring confidentiality, privacy and calm. A large guest table also allows busy travelers with only a few minutes to spare to enjoy a coffee or a snack. There are also large work tables and a collaborative area, for customers to concentrate, talk and connect to the Internet with Wi-Fi access provided by Orange covering the entire lounge.
THE NEW AIR FRANCE LOUNGE IN BORDEAUX IN A NUTSHELL:
– A larger and more comfortable lounge (180 sq. m. compared with 126 previously);
– 60 seats available;
– A personalized welcome by Air France agents, to assist each customer within the framework of his/her trip;
– A relaxation and work area and a large convivial guest table;
– A completely new catering offer, including a selection of Bordeaux wines available late afternoon
– Free Wi-Fi;
– A wide choice of regional, national and international press, as well as many available for download from the Air France Press App on smartphone and tablet;
– An ideal location in hall B, near the boarding gates;
– High-end furnishings and contemporary decor with furniture exclusively created for Air France, an architectural concept designed by Brandimage, a design and branding consulting agency;
– Access reserved for HOP! Air France SkyTeam Elite Plus (Flying Blue Platinum, Flying Blue Gold) customers and La Première and Business customers with a connection at Paris-Charles de Gaulle.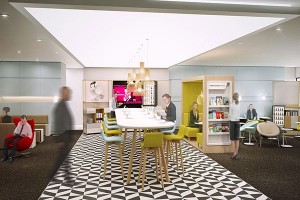 A NEW CATERING OFFER
The catering offer has also been redesigned and is adapted to the time of day, with biscuits in the morning, mini-sandwiches and savoury canapés at mealtimes and cakes and sweet biscuits at tea time. Throughout the day, hot and cold drinks are also available. Bordeaux wines are also available late afternoon. Renewed regularly over the months and seasons, customers can discover different regional wines, in cooperation with the Interprofessional Council of Bordeaux wines.
CLOSE TO FORTY AIR FRANCE LOUNGES THROUGHOUT THE WORLD
At close to forty airports throughout the world, Air France offers its customers lounges for optimum relaxation at the airport. At the Paris-Charles de Gaulle hub, Business and Flying Blue Elite Plus customers can enjoy six lounges before flight departure (Terminal 2E, 2F and 2G) as well as an arrivals lounge (Terminal 2C). La Première customers have access to an exclusive lounge located in Terminal 2E.
In summer 2015, the Air France-KLM group operates 286 weekly flights on departure from Bordeaux to 13 destinations:
From hall B
– 14 daily la Navette flights to Paris-Orly
– 6 daily flights to Paris-Charles de Gaulle
– 3 daily flights to Marseille
From hall A
–   9 destinations served by HOP!: Lille, Nantes, Strasbourg, Lyon,  Nice, Ajaccio, Figari, Brussels and Rome. The daily flights to the regional hub at Lyon-Saint Exupéry provide passengers with connections to 40 destinations in France and Europe.
–  4 daily flights to Amsterdam-Schiphol operated by KLM.
SOURCE Air France